Print Visualizations at Data Stories 2020
Pi(ano)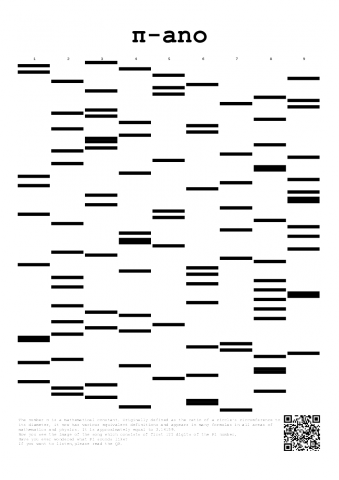 Author: Khasizada Tarigulu

Data includes first 122 digits of the number Pi and depicts it in a resemblance to piano tiles. Throughout the history there has been attempts to visualize this number in the language of music which has produced amazing pieces of music. To produce this image Tableau Desktop 2019.4
version has been used.
Visualization consist of columns and rows in a way that, columns indicate Rank of the digit in a chain and rows show the 10 digits as a category. Additionally, QR code helps viewers to interact with the story and listen to the depicted song themselves.
Message of the visualization is that Pi number has a lot of space to discover and drill into the hidden bonds inside of it. On the other hand, I would like to deliver that data visualization has turned into art and combination of Pi number, music and technological methods have made it
possible.