Print Visualizations at Data Stories 2022
WHEN DO THE MALLS OPEN? FROM A MOBILE NETWORK PERSPECTIVE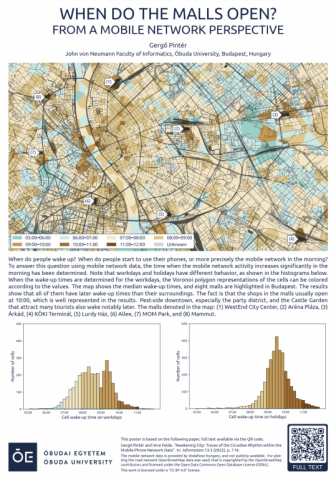 Author: Gergő Pintér



The visualization is a case study from the following paper demonstrating that the mobile network activity in the cells at the malls reflects the time when the shops in the malls open.

Gergő Pintér and Imre Felde. "Awakening City: Traces of the Circadian Rhythm within the Mobile Phone Network Data". In: Information 13.3 (2022), p. 114.

The mobile network data is provided by Vodafone Hungary, and not publicly available. For plotting the road network OpenStreetMap data was used; that is copyrighted by the OpenStreetMap contributors and licensed under the Open Data Commons Open Database License (ODbL).

The poster is licensed under a "CC BY 4.0" license.